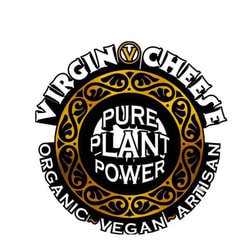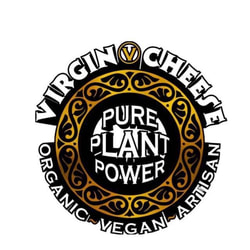 Virgin Cheese
City: Clarkdale, AZ,
Email Address: info@virgincheese.com
About Us
VIRGIN ? CHEESE produces vegan, artisanal cheeses of the highest order made from pure plant power.
Decadent and delicious, traditionally cultured, cashew milk based cheese that contains NO: soy, GMOs, lactose, gluten, dairy or animal products - and, unlike dairy cheese, is completely cholesterol-free. We specialize in cheeses worthy of fine wine.and are purveyors of the ultimate picnic and gift baskets.

ARTISANAL CHEESE. Vegan, artisanal cheeses of the highest order made from pure plant power. Our artisanal cheeses are organic cashew nut milk based. Artisanal cheeses refers to cheeses produced by hand using the traditional craftsmanship of skilled cheese makers. As a result the cheeses are often more complex in taste and variety. Many are aged and ripened to achieve certain aesthetics. This contrasts with the more mild flavors of mass-produced cheeses produced in large scale operations, often shipped and sold right away.

CHEESE. Harder to give up than meat. Ok, you Vegetarian types...It's time to cross over the bridge. We are here to help. This is the vegan cheese that is worthy of your fine wine. You'll feel like you haven't given up a thing. Lactose intolerant? We've got you covered.

INGREDIENTS: Organic cashews, organic cultures, various organic garden cut herbs and spices. Various flavor profiles may have nut milk yogurt, some varieties have organic coconut oil or coconut cream. Every one is worthy of a fine glass of wine. Hard, slicing and semi-soft varieties, traditionally cultured. We are committed to ORGANIC & GMO-FREE ingredients. Voila!

Don't be fooled about the cashew nut's high fat content; they are lower in total fat than almonds, peanuts, pecans, and walnuts. Cashews provide essential fatty acids, B vitamins, fiber, protein, carbohydrate potassium, iron, and zinc. Like other nuts, cashews have a small percentage of saturated fat; however, eaten in small quantities cashews are a highly nutritious food.

Our cheeses offer digestive aid by way of PROBIOTICS via lactobacillus acidophilus. Lactobacillus produces a lactic acid that helps your colon maintain its natural, vitamin-producing facility. It also helps cleanse your intestinal tract.